Every component of the Micromill systems can be configured to meet the specific requirement of
each application.

The Log infeed can be enhanced with a heavy duty sharp chain pre-feed table. Optional blowers and conveyor systems are available to propel chips to any location for disposal, storage or shipping to be further processed.
Diesel or electric power configurations give operators a choice for stationary or mobile application. Engine horsepower can be matched to processing requirements.

On the outfeed side an optional landing table with sweep arms is available for quick and smooth transfer of lumber onto the green chain. Other Outfeed options and custom conveyor systems as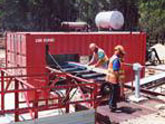 well as stacking bins and carts can be utilized to bring a Micromill operation to the optimal level of efficiency.

Aside from different flow layouts and optional components additional machinery is available that can turn the basic small log processor into a full scale sawmill. The Micromill design principles and focus on mobility and reliability are applied to all additional machinery modules.